Drain Clearance
We are drain clearance specialists who support local domestic drainage concerns and offer drain services across our region and surrounding areas.
Our team is fully trained with drain cleaning and well versed in a huge variety of blockage issues and the means to clear them, including CCTV drain surveys and drain repairs.
Blocked drains can be a real hassle and often seem to pop up when you least expect them.
This is why you should always have the number for drain clearance experts with CCTV survey services to hand just in case you find yourself at a loose end or in a tight spot!
Drains and pipes aren't always getting blocked by large foreign bodies.
There are underlying issues deeper down, too, many of which only expert hands and the best professional tools in the trade will handle and remedy.
Struggling with blocked drains and in need of drain clearance specialists near you?
Get in touch with us via our contact form if you are experiencing any nuisance blockages, spillages or foul smells resulting from your home drainage system.
Let the experts take care of fairly complex work with our efficient and effective drainage services! Worry not, as our team know their way around drainage networks better than anyone else.
Blocked Drain Clearance
Blocked drains can occur due to large foreign bodies clogging up pipework and underlying damage, and even root intrusion.
This means that blocked drain cleaning is often more complex and more thorough than you may expect!
It is never simply a case of grabbing a plunger and a pressure hose – in some cases. Our team must get involved with thorough inspections to get to the root of severe problems further down the line.
"The team were accommodating and managed to find and clear the drainage problems quickly."
Drainage clearance in can involve working deeper into a piping network or local sewerage.
To this end, we only ever make sure that we work with the best industrial tools and with the most comprehensive training behind us for our drain services.
Visit this page - https://www.drainclearances.co.uk/emergency/ to find out more about the emergency drainage services we offer as well.
Our team are well-versed in a variety of drain problems.
While it may seem that a clean flush may solve the issue, we're on hand to do a little more digging to make sure things work as they should – and without that awful, intrusive smell.
Who is Responsible for Clearing Blocked Drains?
Whether you are experiencing regular drain blockage or intrusive smells and all of the problems that may arise in between, you will need to rely upon local drainage engineers and experts in drain cleaning.
Ones who can confidently and efficiently get to the bottom of a blockage issue with little encouragement.
We understand that working with drains domestically and publicly means undertaking several safety checks and staying accredited and monitored.
We can assure you that we are fully regulated, trained and well-versed in safe drainage control and clearance.
Who Looks After My Drains?
Our reliable emergency call-out drain services will ensure that you always have someone to turn to should you ever find yourself in a dire spot for support.
Having built up a keen reputation as drain clearance experts in our region, we are confident in our ability to investigate and remedy various drainage faults and blockages with minimal intrusion.
We can easily resolve any blockages – but even if the means of finding a solution goes a little deeper down, we'll know exactly how to get to the bottom of the issue.
Experts in Clearing Drains
No matter what the main cause of a blocked drain may be, we have a safe protocol and standards to follow.
As such, we can always assure you that you, your family and your home will be kept safe during any processes.
As local drain clearance experts, we understand that some of the more advanced causes of drain blockage can take time to investigate and remedy. These causes may run deeper, for example:
Root growth into the drainage
Deterioration of pipework
Hair trapped in the pipes
Oil and grease
In such circumstances, we will always endeavour to find the quickest solution in which provides the best results.
However, there may be times where we may need to perform a full excavation and repair or replace it.
In which case, we will always keep you up to speed on what to expect – both in terms of costs and in terms of timescales.
Clearing a Blocked Drain
While clearing a blocked drain on your own at your property may seem simple, there's not always a guarantee that you'll be able to thoroughly remove the rogue items or issues which are causing problems.
In any case, especially in every sewer blockage, we will always advise you to contact local experts who can safely and efficiently diagnose and remedy problems for you.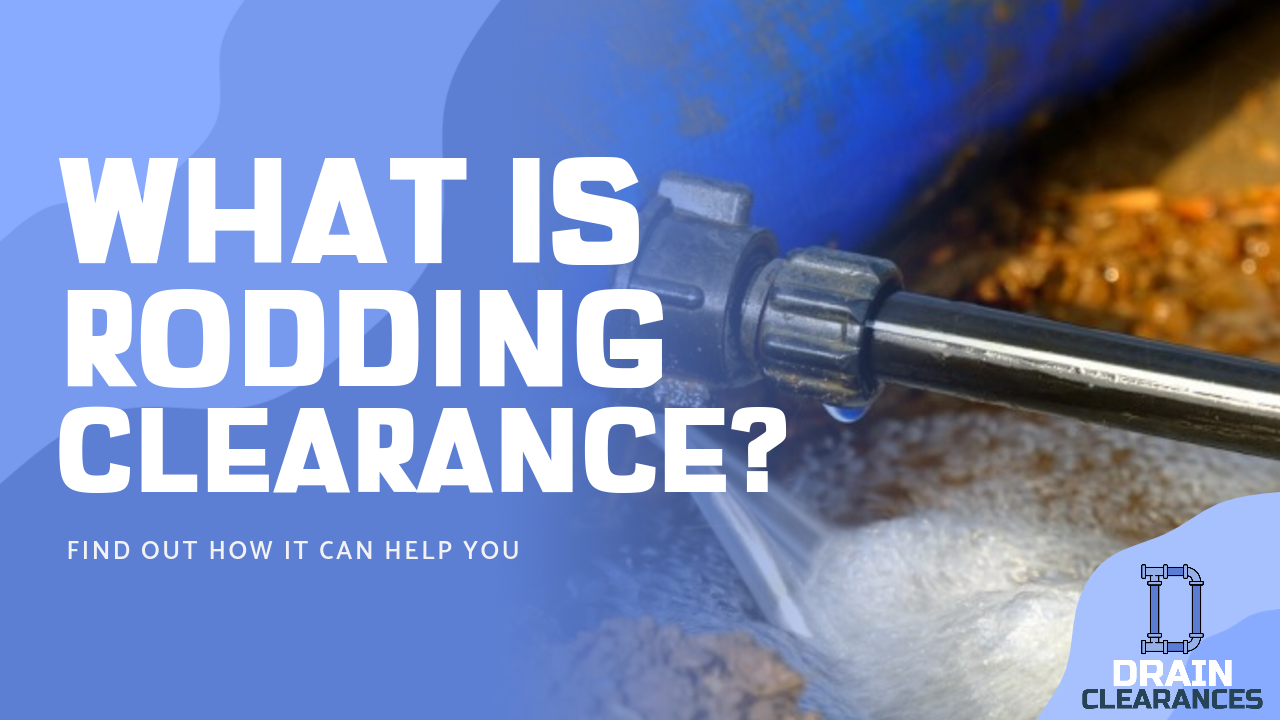 We have worked on commercial drainage issues - https://www.drainclearances.co.uk/commercial/ and smaller-scale projects, and our teams have plenty of experience.
While you may be able to handle smaller blockages on your own confidently, there's always worth in calling a local expert for help.
Our team has more than the necessary equipment to hand in to ensure that we can continue to offer drain services efficiently and support many issues our customers face regularly.
There may be some cases where a complete excavation of pipework is required, especially for severe blockages and underground damage.
In these cases, clearing a blocked drain isn't so simple – meaning we will be on hand to make sure you get the thorough investigation support and resolution you need.
How much does it Cost to Unblock a Drain UK?
The cost of drain services varies depending on the type of blockage.
A small blockage usually won't cost more than £100, but a more substantial blockage deep in your drains may cost you a couple of pounds.
What is Rodding Clearance?
Sewer rodding is a process for eliminating clogs in your plumbing and getting things flowing again.
Blockages can cause significant damage to your property and sometimes go unnoticed for a long time until it's too late.
Drain Blockage Removal
If you need thorough drain blockage removal and are unsure where to start, certainly don't try taking on the problem on your own – call the local experts who are well-positioned to help you.
Get in touch with our team through the contact form today.
Whether you require a drain unblocking as an emergency, or if you need regular help and advice, we're here to support you with our range of drainage services.
We are their closest allies against pesky blockages and troublesome pipework for many families and homes throughout our region.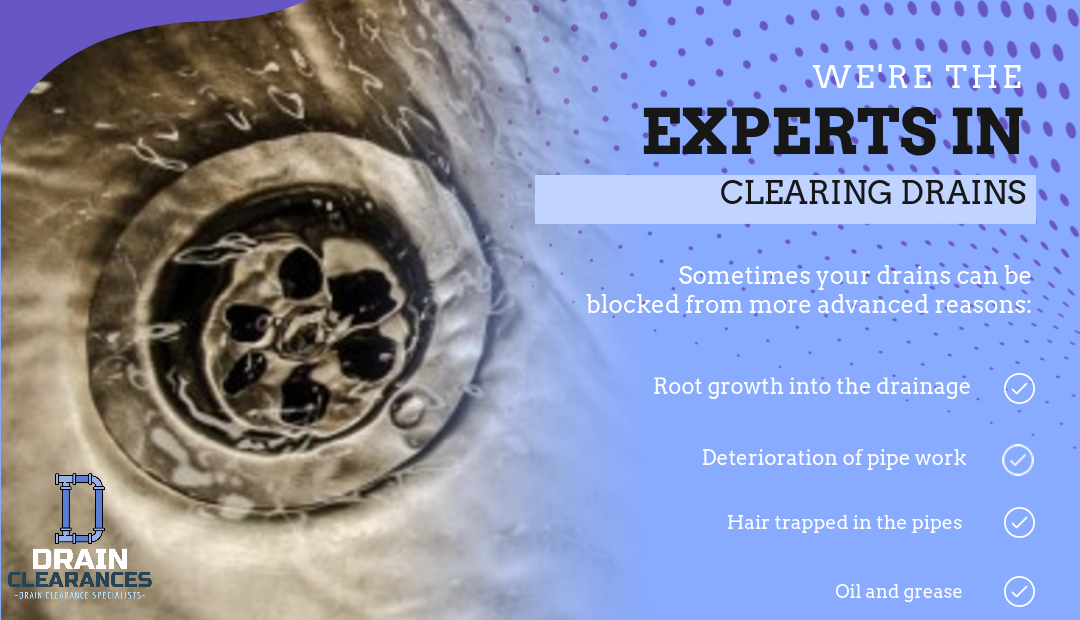 Other Services We Offer
Contact Us
For big jobs, minor maintenance and in-depth investigations and excavations, get in touch with our drain clearance experts who have years of expertise and a wealth of knowledge.
We'll be with you as soon as we possibly can.